You all saw that too, right?
Please tell me the things I saw happen in Week 10 were real and not a hallucination. Because if you didn't see it, it means either I'm losing my grip on reality (which wasn't all that strong to begin with) or my shady neighbor, Mustache Mike, slipped me LSD again.
Goddamnit, Mike.
I really hope the following gifs aren't just figments of my imagination:
.
.
Peyton Manning started his day off by breaking the record for most career passing yards…
 Things would then take a sharp decline for Mr. Manning, but more on that later
.
.
Meanwhile, Manning the Younger, found himself left hanging…
.
.
If the Browns could draw up plays that would break down on purpose, they'd be championship contenders…
.
.
Antonio Brown continues to be an athletic freak of nature
                                                                                      I could totally do that
.
.
Cam Newton's ever expanding celebration dance didn't sit too well with some…
           Personally, I think people need to get over it. The guy is playing out of his mind this season. Let him have a little fun
.
.
Hey, Elvis Dumervil, not great…
                           This play would have ended the game, giving the Ravens a win, however the facemask penalty moved the ball up 15 yards and allowed the Jaguars to kick a game-winning field goal.
.
.
Apparently I wasn't the only one who didn't know which way was which this week…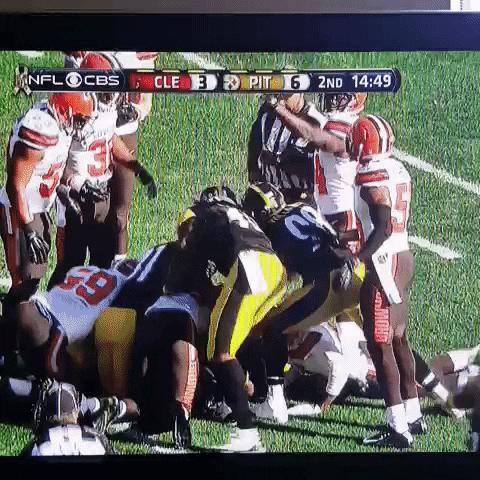 .
.
And finally, Drew Stanton was very very excited for his team's success…
.
.
On to the insanity that was Week 10 of the NFL:
.
DA CURSE
Three weeks ago, the Green Bay Packers were undefeated, sitting with a strong 6-0 record.
Three weeks ago, the Packers looked like one of the few legitimate contenders in the NFC.
Three weeks ago, Chicago Bears legend, Mike Ditka, first appeared in a McDonald's commercial dressed like this:
The Packers have lost 3 in a row since that commercial aired. In just three weeks, they've gone from NFC front runner to not even leading in their own division. The first two losses (Broncos and Panthers) were explainable. Both are quality, playoff bound teams. But this past week, the Packers lost at home to the Detroit Lions. I repeat, the Packers lost to the Lions… in Green Bay. The people who were born the same year as the last time this happened are now old enough to drink… almost old enough to rent a car.
As a Bears fan, all I can say is:
#DitkaCurse
.
.
PLENTY OF BITTER, NOT ENOUGH SWEET
As was mentioned in the in the gif recap, Peyton Manning made history on Sunday by becoming the NFL's all time passing yards leader. Years from now, that will likely be the main thing people remember about this game. But for the next week… month… possibly next year or so, the story from this game won't be Peyton's new record. The story will be how this was the game when guaranteed Hall of Fame inductee, Peyton Manning, was benched for performance reasons.
With 6:34 remaining in the third quarter, the Broncos trailed the Chiefs 22-0. Then Peyton threw his fourth, that's right, his fourth interception of the game. Manning was then benched for Brock Osweiler.
You probably just said "Who?"
Exactly. Peyton was that bad.
If this ends up being more than a one game switch, I wonder how Peyton will handle life as a backup. I'm sure his colleagues will be able to offer some emotional support…
.
 "Don't sweat it, Peyton! Getting benched is great! I still get paid millions of dollars and I don't have to do anything. See, it looks like I'm reading a playbook, but I have my phone in here… I just play Clash of Clans all day long!"
.
.
 "uh, sure thing… so… how exactly did you get my number?"
.
.
 "Your brother gave it to me!"
.
.
 "Damn it, Eli!"
.
.
 "What can I say? I'm a real jokester!"
.
.
 "You guys telling jokes? I love jokes!"
.
.
 "Jesus… what the hell is that?"
It's the Touchdown Clown, Peyton. I know… he's the worst. I'm sorry.
.
.
WELCOME TO BIZARRO WORLD
      So, we've already seen a supposed Super Bowl contender get cursed and a Hall of Famer get benched. That was just the tip of the iceberg for all the logic defying happenings of Week 10.
If I were to ask you who the three best teams in the NFC were, who would you name?
Sure, you'd pick Carolina, seeing as they remain undefeated. But even so, when was the last you remember the Panthers being legit contenders?
Well, if we're ranking teams strictly by wins and losses, then the other two teams joining Carolina atop the NFC standings would have to be the Arizona Cardinals and the Minnesota Vikings! With 7-2 records, each team sits in first place in their respective divisions. The Cardinals aren't too surprising, they've been a good team throughout the season. After starting the season 2-2, the Vikings have peeled off 5 wins in a row; all against not-terrible teams. And it just so happens they face the Packers in Week 11. Definitely a game to keep your eye on.
  Green Bay was a 10.5 point favorite over the Lions. Cincinnati had 10 points over the Texans and St. Louis at 7 points over the Bears. This week marked the first time in NFL/Odds maker history that the three biggest point spreads of the week were all upset. But it didn't end there. When the dust settled, and all the games had been played, 11 out of the 14 NFL games were won by the 'Underdogs'.
 Somebody in Vegas just made a lot of money… and somebody else probably got their legs broken…
"What's that supposed to mean?"
.
"Uh… nothing, Sir. Just a dumb joke. "
 "Oh, yous a wise guy, huh?"
.
 "No one has ever accused me of being wise. I assure you."
.
"Alright funny man, I think it's time for you to take a hike."
.
Well, you heard the kind gentlemen, folks. I like my kneecaps right where they are, so I guess it's time to call it a day.
See you all next week!
– Patty Waffle Nuts*
*(just a guess at what my mafia nickname would be)