Hey there you Gnashgabbing Mumblecrusts!
(Sidenote: those are totally real words. Look 'em up)
Welcome to the Touchdown Clown's recap of Week 9 in the NFL.
 "Hehehehehe! That's me, the Touchdown Clown! Are you ready for some football, Boys and Girls?"
Dammit, TC! I thought I told you last time to stay in your room! You can come out when you lose the creepy makeup! And maybe wear a football uniform from this century…
Good grief, I'm sorry about that everyone. He's really just the worst mascot ever. Let's try to forget about his rude interruption and check out some of the highlights from this past week:
.
.
Jameis Winston gives Cam Newton some competition as to who's really "Superman"
.
.
Antonio Brown's toes are phenomenal athletes
.
.
Martavis Bryant must've been mashing on the "juke" button for this one
.
.
Pat McAfee earned back some dignity for Punters everywhere…
 …at the expense of letting the ball carrier run by untouched.
.
.
Delanie Walker should go play lotto with this kind of luck
.
.
DeAngelo Williams says "What Up" to Raiders pass rusher Aldon Smith
.
.
It wasn't all fun and games, though. Week 9 had more than its share of less savory incidents.
That't not nice, Von Miller…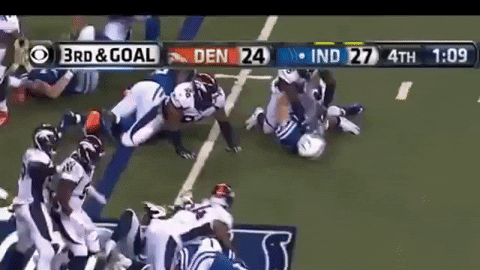 .
Aqib Talib got a little "Three Stoogie"
.
Julius Peppers acted like a schoolyard bully
.
And the scariest one was this questionable knockout hit on Teddy Bridgewater
He suffered a concussion, but is expected to be a-okay.
.
.
And to close out the gif recap, Odell Beckham Jr. decided to break out the WWE moves…
.
.
I BELIEVE THE KIDS REFER TO IT AS "SMH"
The Carolina Panthers hosted the Green Bay Packers this past week, and Cam Newton lead his team to another victory. The Panthers are now one of just three remaining undefeated teams in the NFL, and the only one in the NFC. But we're not here to talk about what happened during the game. That would be too much of a good use of everyone's time and energy. We're here to talk about an incident that happened just before the game.
Mike Dobs is a Packers fan who lives in Carolina. Mike Dobs spent 500 real American dollars on a custom banner extolling his love of the Packers. Mike Dobs brought said banner into the Panthers stadium and hung it over the railing, even though such an action is expressly forbidden in the stadium's fan policies.
During pre-game warmups, Cam Newton noticed the banner and in an act of home field pride, removed it from the wall, folded it up, and placed it in a walkway under the stadium. But that's not how Mike Dobs tells the tale. Mike Dobs claimed Cam ripped it down and tore it up. Mike Dobs actually filed a police report for theft. He claimed it had planned on hanging the banner in his "man room" and that it was now ruined. Then one of Mike Dobs fellow attendees went on a racist Facebook tirade, calling Newton "ghetto" and joking that he thought Cam was only coming over to "beg them for money."
So…. fuck that guy.
And as for Mike Dobs?
Bruh, what are you doing with your life? You're a grown man and you're spending $500 on a custom banner for a team you have nothing to do with? And then you're throwing a fit because you wanted it to hang in your "man room"? What the fuck is a man room? Are you so emasculated in your day to day life that you need a special place where you can feel like a real manly man?
Well, don't you worry, Mike Dobs, because I designed some new custom banners just for you! I think you'll find they really embody your essence as person…
.
.
.
.
Alright! That's three custom banners at $500 apiece. So that'll be…
….hmmm, carry the five…
….account for the Earth's rotation…
…and, it looks like the grand total will be $1,500…
…plus tax and shipping.
I'll expect your check in the next three business days.
Pleasure doing business with you, Mr. Dobs.
QUICK HITS
Falcons head coach, Dan Quinn, opted to kicked a field goal while his team was down by 4 with three minutes left in the game. Somewhere a GM is frantically ordering a crate of TI-85 calculators for his coaches on the sideline.
Meanwhile, Rams Head Coach Jeff Fisher opted to go for two in the first quarter. They failed the attempt. The game went to overtime. The Rams lost. Seriously, at what point do we see teams start adding a "Head Math Coach" to their staff?
Sorry for the short post, y'all. It's been that kind of week. I plan on making it up to you in the future. *wink*
Byyyyyyyyyyyyyyyyyyyyyyyyyyye
-Pat