Hey you, how's it going?
Huh? What's that, you say?
"What happened last week?" you ask, "Why wasn't there an article?"
Nothing. Nothing happened. I have no idea what you are talking about. As far as I know, this so-called "Week 7" never existed. Now let's not dwell in this make believe past of yours and focus on the reality that was Week 8 of the NFL season….
.
Here's Bears WR, Alshon Jeffrey, making the obligatory Helmet Catch of the Week…
.
.
Cowboys Lineman, La'el Collins (#71), is a Baaaaaaaaad Man
.
.
This catch by Chargers WR, Keenan Allen, was pretty legit too…
.
.
Eli Manning threw for an epic 350 yards and 6 touchdowns. But he also did this…
.
.
Titans punter, Shane Lechler, reminded us why he's a punter…
.
.
Veteran WR, Larr Fitzgerald, flexes a little "Old Man Strength" on 2nd year CB, Peirre Desir…
.
.
Odell Beckham Jr. showed us that Victor Cruz isn't the only Giants WR who can break it down in the endzone…
.
.
Ravens kicker, Justin Tucker, celebrated his game winning kick with this interesting display…
.
Hmmm… where have I seen that before?
Now how 'bout that? Who knew Tucker was such a Drake fan…
.
.
ROCKY MOUNTAIN HIGH
The Denver Broncos hosted the Green Bay Packers on Sunday in what was one of the most anticipated match-ups of the week. You had the Packers offense led by one of the best QBs in the league, Aaron Rodgers (I thought about saying "arguably the best" but goddamn, Tom Brady is a man on fire lately. Hard to claim anyone's playing better, but I digress…) Anyway, we had Aaron Rodgers' offense squaring off against the, hands down, best defense in the NFL, which happens to be led by the human equivalent of a unicorn, Von Miller:
What was expected to be a hard fought, nail biter of a game ended being a powerful statement for one team and a troubling indictment for another. Denver's defense was absolutely dominating. Aaron Rodgers was held to just 77 passing yards, and the Packers gained only 140 yards of total offense. That's their worst performance since 2013. All season long, praise has been heaped on Rodgers for making what is objectively a mediocre receiving corp look like a bunch of all pros. Denver seemed to have cracked that code by never letting up the pressure. Rodgers was sacked three times, and hit many times more. One of the sacks resulted in a fumble that then became a safety.
On top of that, the Denver offense finally started clicking, and Peyton Manning finally looked a bit like Peyton Manning. The veteran threw for 340 yards.
And then, as if Denver's status as a legit post season contender wasn't already secured, they went out and acquired veteran Tight End, Vernon Davis, from the wad of failure that is the 49ers (more on that to come). If Peyton can keep up the solid play, the Broncos will be giving New England some serious competition for the top seed in the AFC. Personally, I hope they go deep in the playoffs, if for not other reason than it will give me an excuse to post more pictures like this:
Shine on, you beautiful diamond
.
.
SO, IS DEFENSE AGAINST YOUR RELIGION OR SOMETHING?
The New Orleans Saints hosted the New York Giants this weekend, and the defenses from both teams apparently decided to take the day off. When the dust finally settled, the Saints would end up with a 52-49 victory. Drew Brees and Eli Manning combined for 13 passing touchdowns, the most in NFL history…like ever. The two offenses combined for over 1,000 yards. It was almost like watching a video game. The Saints even completed a flea flicker play for a touchdown. I haven't seen that since Super Tecmo Bowl…
Seriously, 101 total points of offense. This game so much of a shoot out, I hear they're legitimately considering changing the name of the Saints' stadium from the "Superdome" to "The O.K. Corral"…
 "I'm your huckleberry"
What does that even mean? Wait, you know what? I don't care. This scene is still cool as shit.
.
.
DUST BITING AND SUCH
Earlier this morning, it was announced that the Tennessee Titans fired head coach, Ken Whisenhunt.  After an impressive Week 1 victory, the Titans have lost six straight games. In Whisenhunt's season and half at the helm, the Titans have a dismal 3-20 record. This is especially frustrating for Titans fans, considering how bloody awful the AFC South is.
I wonder how Whisenhunt will spend his free time now that he's unemployed…
Maybe he'll seek out counsel with a colleague who can relate to his situation…
.
.
"Hey, Ken! Want to hang out? I can show you my stamp collection!"
.
.
"Uh, thanks Joe… but I'm busy that day…"
.
.
"But I didn't mention a specific day…"
.
.
"All the days, Joe. I'm busy on all the days. And, uh, how'd you get my number anyway?"
.
.
"Coach Belichick gave it to me! He's real swell."
.
.
"Goddamn it, Bill."
.
.
"Heh heh heh"
UM, HAPPY BIRTHDAY?
One might describe the 2015 San Francisco 49ers as disappointing, and they'd be correct. One might also describe the 2015 San Francisco 49ers as a raging dumpster fire, and they'd also be correct. The 49ers are currently 2-6. Big money quarterback, Colin Kaepernick, has been exceptionally not good, throwing only 6 touchdowns through the first 8 games. The 49ers' embarrassing 27-6 loss in St. Louis seems to have been the final straw, as team management announced on Monday that Kaepernick would not be the starter in Week 9. Head Coach, Jim Tomsula, has decided that Blaine Gabbert will lead the team against the Falcons. Yeah, I don't know who Blaine Gabbert is either. Naturally, that gorgeous hurricane of humor, spite, and cynicism that is the internet had a few things to say on the matter: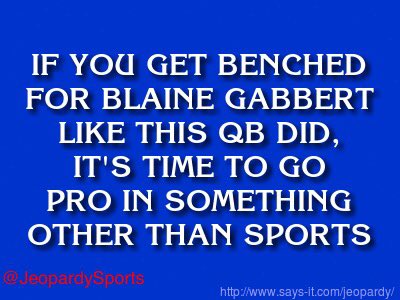 .
.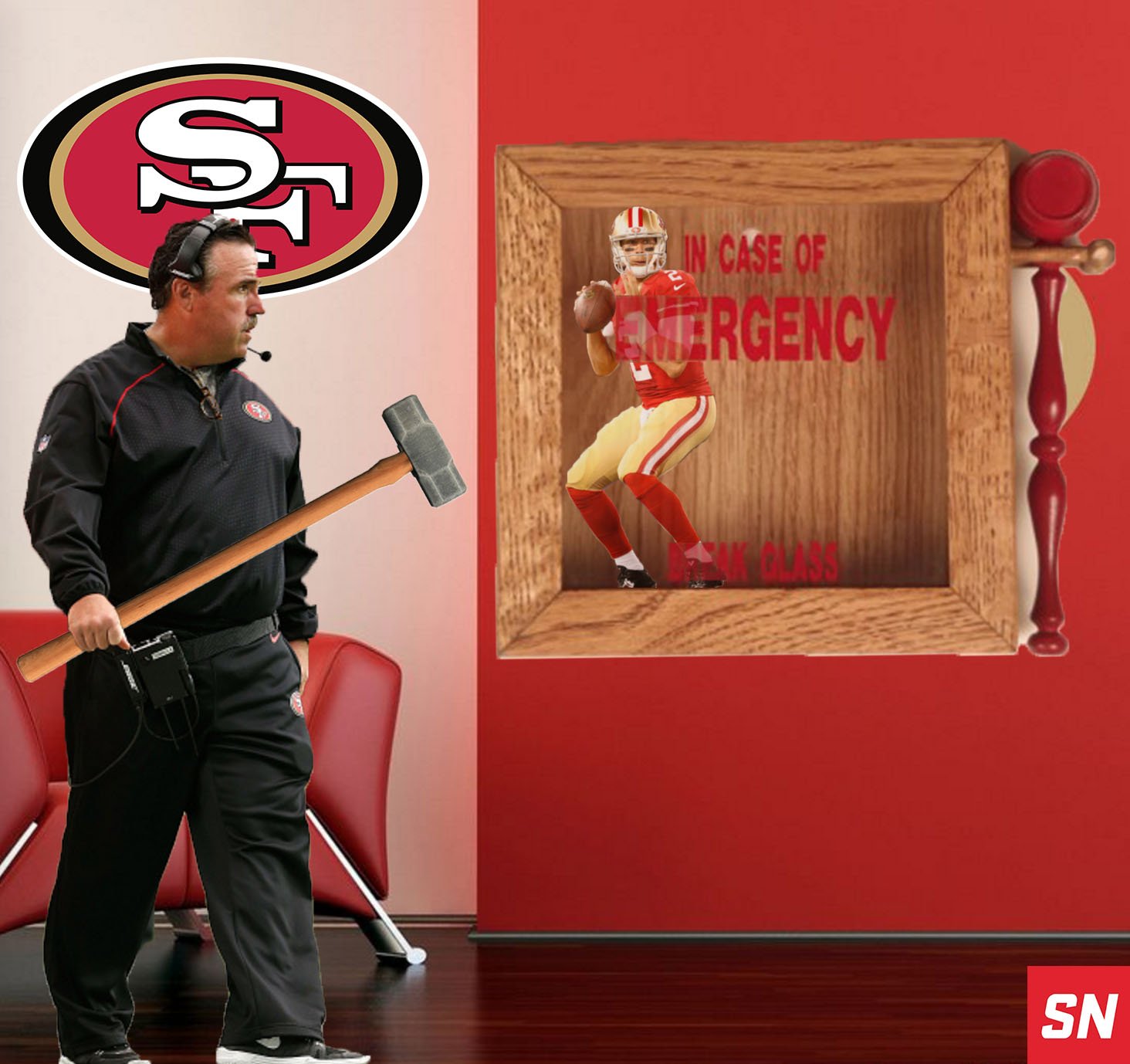 .
.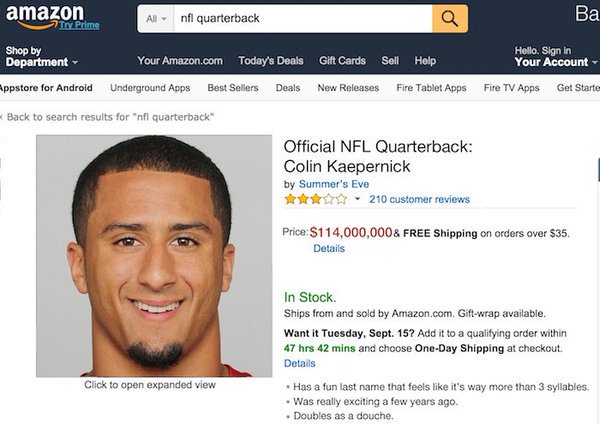 And, in researching this segment, I learned that today (November 3rd) is actually Kaepernick's birthday. Using my vast network of contacts, I was able to secure a picture of San Francisco team management's gift to him:
.
.
.
Oh… oh, that's ice cold.
See you dirty nerf herders next week,
Now dance me out of here, Drake!