Welcome back you waxy-eared fizzy fannies,
We are six seventeenths of the way through the regular season, which is a completely irrelevant and asinine stat. Shall we take a gander at some of the weeks top moments? We shall!
DeAndre Hopkins decided to get in on all this "helmet catching"…
.
.
Marvin Jones went all "Neo" for this score…
.
.
Steve Smith went full Pee Wee…
.
.
Golden Tate is apparently a penalty flag wizard…
.
.
Von Miller is the new Minister of Silly Walks…
  (If you get that reference, you're my soul mate)
.
.
Jamie Collins made the slickest field goal block I've ever seen…
You might have noticed a certain play from the Colts-Patriots game was not highlighted in the opening segment. You might consider this a major over sight, seeing as it's hands down been the most talked about play of Week 6. Well, don't you worry your precious little heads, because we've devoted a whole section to it…
.
BUT SERIOUSLY, WHAT WERE THEY HOPING WOULD HAPPEN?
So the Patriots traveled to Indianapolis to take on the Colts. This match-up garnered some extra attention because it was during the last meeting between these two teams that the whole "Deflatega-" You know what? No. I'm not going to use that word. Damn that word. Damn it to hell. Anyway, it was in their last meeting that the controversy surrounding the amount of air in the Patriots' footballs spilled out into the open. For the record, Mr. Brady, just how big were your balls?
Well, I held out for 6 weeks, but just couldn't resist making the obvious joke any longer. I understand if you want to leave.
Still here? Cool. So, the Patriots defeated the Colts 34-27, but nobody's really talking about that. Nope, the only thing from this game that anyone has talked about, and with good reason, is the play that happened in the fourth quarter when the Colts had the ball on their own 34 yard line. It was 4th and 3, and the Colts predictably trotted out the punt team. They lined up in a typical punt formation, but then suddenly, nine of the players (including the punter) spread out wide right. And… and… and then this happened…
Yeah, I have no idea what they were hoping would happen either. Your guess is as good as mine. I don't think I've ever seen a reverse swinging gate, and I think I know why. As I'm sure you all could have guessed, this beautiful and terrifying place called the internet had a lot of fun with this:
.
.
.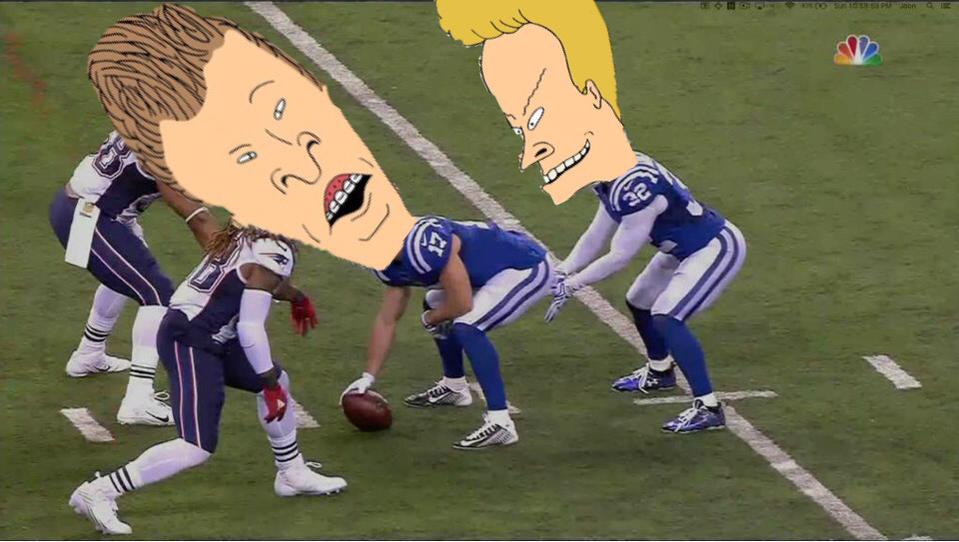 source: @PlatinumWoods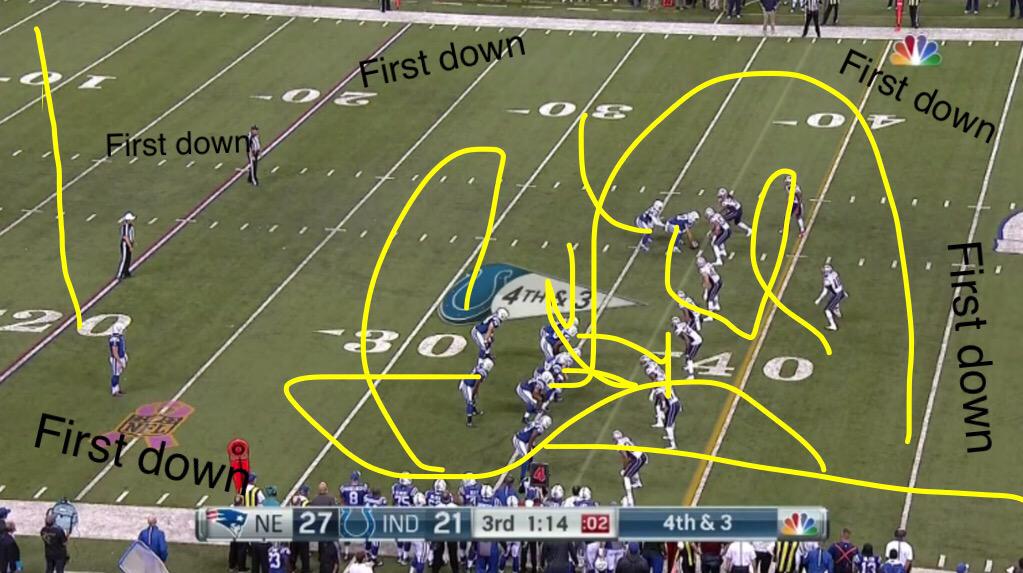 source: @Faux_Gruden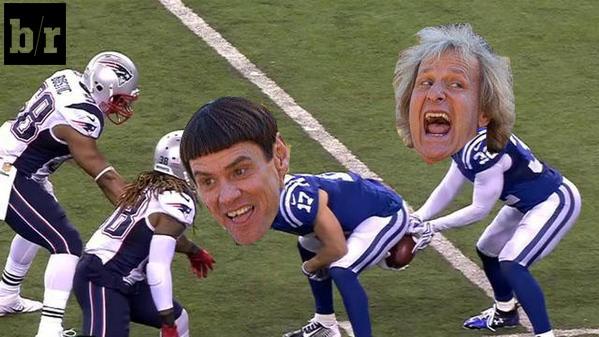 source: @Joseph_Merkel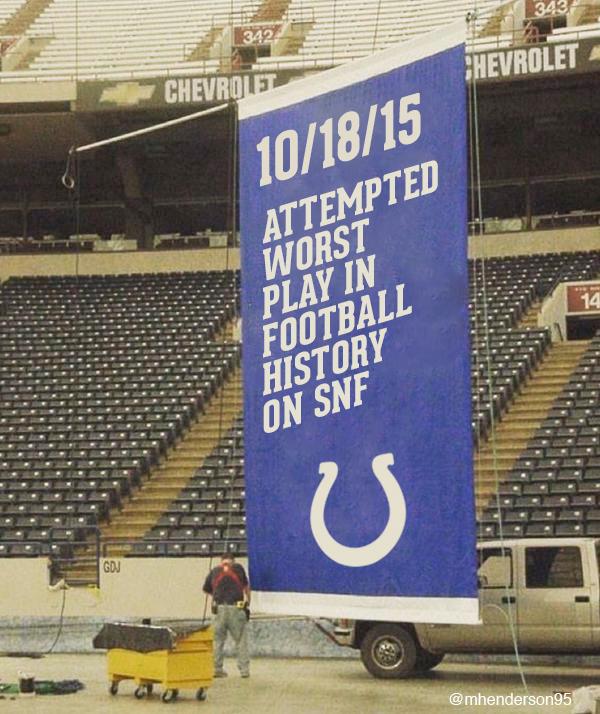 source: @mhenderson95
If only we could create an engine that runs on snark. The internet would be a limitless source of power for the whole world. Oh well, a guy can dream. Anyway, I've watched this play so many times it's almost taken on a zen-like feel to me. I could meditate to this failure.
Here was head coach, Chuck Pagano's quote after the game:
"The whole idea there was, on a fourth-and-3 or less, shift to an alignment where you either catch them misaligned, they try to sub some people in, catch them with 12 men on the field. If you get a certain look, 3 yards, 2 yards, you can make a play. But again, we shifted over, and I didn't do a good enough job coaching it during the week"
Oh really, Chuck? You think you didn't do a good enough job coaching it? What would ever give you such an idea?
.
.
Oh yeah, that's why. 
.
.
MAKE UP YOUR MINDS ALREADY!
There is a serious issue seeping through the ranks of NFL officiating crews. And that issue is that they have no bloody clue what is or is not a "catch".
The first signs of this issue appeared way back in 2010, when the Lions played the Bears. Chicago eked out a victory when a potentially game winning catch by Calvin Johnson was ruled incomplete. This caused an uproar in the football world, as anyone with marginally functioning eyes could see it should have been considered a completion.
Fast forward to the 2014/2015 playoffs, when the Dallas Cowboys played the Green Bay Packers. Trailing in the 4th quarter, the Cowboys took a shot down field on 4th down. Dez Bryant makes what appears to be a stunning grab. After official review, it's determined to be an incomplete pass.
Then in week 3 of this current season, Bengals TE Tyler Eifert nabs a pass from Andy Dalton and then stretches the ball across the goal line for a score. The ball is knocked from his hands a full second after the balls crosses the plain, but it's still ruled incomplete.
Bringing things full circle, the Lions once again faced off against division rival Bears this past week. This time it was the Lions who squeaked out a win when afore mentioned Jedi, Golden Tate, made a late game touchdown "catch." It was ruled a catch even though he clearly never had control of the ball, seeing as it was almost immediately knocked loose and flew into the hands of a Bears defender.
So, to clarify:
Not a touchdown
.
Not a touchdown
.
.
Not a touchdown
.
.
Totally a touchdown
.
.
QUICK HITS
Poor Choice of Words: The Seahawks have now blown their lead in the 4th quarter three times this year. Obviously they're having trouble finishing. Obviously they're having trouble lasting long enough. I wanted to help, so I did a search for "stamina enhancers"…..which was a terrible mistake.
Old Yeller: Peyton Manning continues to be… not good. He threw three more interceptions against the Browns this past week. Somehow, though, the inherent incompetency that permeates through the Browns organization was still too powerful and the Broncos beat Cleveland by 3 in overtime. I hate to say it, but I think the pasture's a callin' ol' Peyton home.
Nude Dudes: The NFL Network reporter who covered the Bengals game is cleary either A) a bit lacking in the common sense department or B) a big ol' pervert. While the gentleman in question was conducting a post game interview with Cincinnati cornerback, Adam Jones, the camera caught numerous Bengals players in various states of undress. This was a live broadcast too. The video is embedded below. So, by all means, scroll down to see a couple man-butts and a dong or two.
.
.
.
.
.
.
.
.
.
.
.
.
.
.
.
.
You scrolled down.
You perv.
See you creeps next week.
xoxo,
Pat "Rambling Waffle" Edwards