Hello again you bunch of scab-picking, One-Direction-listening, eating-cool-whip-with-your-bare-hands troglodytes!
Welcome to the Touchdown Clown's recap of the NFL action in Week 5. Let's check out a few quick highlights:
The Patriots skill players made the Cowboys secondary look silly…
 "Puny mans no can tackle Gronk!"
.
.
I believe the technical term here is "stopping on a dime"
.
.
 Dion Lewis just says "No" to being tackled
.
.
 …and here we see Julian Edelman making a Dallas Cornerback forget "how to football"
.
.
Gary Barnidge gave birth to a brand new football…
                                                     "Congratulations, Dad! It's a beautiful baby touchdown!"
.
.
Someone tell these guys that's not what helmets are for…
                    Yet again, a Giants receiver uses his helmet to secure a game winning catch.
.
.
Clay Matthews showed St. Louis his own impression of a Ram…
Eh, Nick Foles didn't need his sternum anyway
.
Let's do that thing where I talk about some headlines!
THREE SIXTY
Peyton Manning is currently playing in his eighteenth NFL season. And for pretty much his entire career, he's been one of the best quarterbacks on the field, and will go down in history as one of the best quarterbacks ever. This year, however, his age is definitely showing. The Broncos are currently undefeated, and they're winning, not because of Peyton, but rather in spite of him. The Denver defense is arguably the best in the league. They have the lowest average yards allowed per game, most forced fumbles, and most sacks. The Broncos D is lead by the phenomenal athlete and human art exhibit known as Von Miller…
Von's pet fox likes to take "head naps" after big games.
.
.
And here, the fashion forward athlete models some trendy Joker-chique
.
.
And here's, uh, well… Von appears to be showing his affection for the air
But I'm not picking on Manning for no reason. His numbers clearly show a problematic trend. The Broncos beat the Raiders 16-10, and Denver's only touchdown came from the Defense. Through five games, Peyton has thrown for seven interceptions while only scoring six touchdowns. He's been sacked 12 times. He is averaging only 6.5 yards per passing attempt. His average passer rating is 77.3. If Peyton maintains this level of performance through the rest of the season, every single one of those stats will either break or tie his personal worst records, most of which date back to his rookie season (TD/Int ratio, yards per attempt, passer rating). What's that term? You know, when you start at one place, then move away from that place, but over time you end up right back where you started?
"I think 'Full Circle' is the term you're looking for."
Hey, it is! Thanks, Peyton! Yeah, so it looks as if Manning's career has come…
.
.
"Hey, you know what else is a full circle?"
Um…no. What?
.
.
"THE NEW BAR-B-QUE BACON RANCH CHEESEBURGER PIZZA AT PAPA JOHNS!"
.
Damn you to hell, Peyton. Damn you to hell.
BIG D? DOES THE 'D' STAND FOR DRAMA?
Sometimes, I can't handle how clever I am.
I thought about writing a long story about terrible/crazy person Greg Hardy and his return to the NFL, but then I decided he wasn't worth my time. If you're not familiar, Hardy was suspended for four games because last year he was charged with physically assaulting his then-girlfriend in a particularly brutal manner. He has shown neither remorse nor understanding of the gravity of the situation. He is literally the worst, and Star Wars villain/Old Timey Prospector Jerry Jones has both defended and enabled him. I only bring it up because I wanted an excuse to post this…
It's uncanny!
QUICK HITS
In surprising-no-one news, the Detroit Lions are bad…. like really bad. So bad in fact that Head Coach, Jim Caldwell, benched starting quarterback, Matthew Stafford, due to his poor play. You might remember Stafford as one of the last First Draft Picks to receive an obscene rookie contract (The dude got $41.7 million guaranteed…. before he ever played a single down in the NFL). When asked for comment about the benching, Stafford responded by saying, "I have 41 million dollars to dry my tears with. I'll be okay" *
*Matthew Stafford did not say that at all. I'm just projecting what I would have said in the situation.                             He's much classier than me.
Browns quarterback, Josh McCown, threw for 457 yards in their win over the Ravens. No Browns QB in history has ever thrown for more yards in a single… in the entire extended history of the team. So… congrats? I guess.
If you want to get a real sense of just how distant the expectations are for rival teams The Packers and The Bears. The biggest stories for each this week were that Aaron Rodgers is so good, the interception he threw was his fist at home since 2009 and Jay Cutler actually played two "good" games in a row.
PSEUDO-PSYCHIC 
Currently, there are six NFL teams that remain undefeated: the New England Patriots, the Green Bay Packers, the Cincinnati Bengals, the Denver Broncos, the Atlanta Falcons, and the Carolina Panthers. Seeing as only four teams in the 95 year history of the NFL have been able to complete a perfect regular season, I'd say it's a good bet to assume a loss is on the horizon for each of these teams. I going to contradict something I said in an earlier article and do a little "Expert Predictions" exercise. I'm going to take each of the undefeated teams, and give you my well researched and well thought out prediction for how and when their first loss will occur. Ready? Great!
Cincinnati – The Bengals will battle their way to a 12-0 record. The twelfth game happens to be against division rival Browns at Cleveland. Then after the game, the collective mental weight of the Cincinnati Hive Mind will become too much for Andy Dalton. The usually straight laced gentleman will finally agree to out for a night on the town with Cleveland backup QB, Johnny Manziel. The night of debauchery will lead them to boarding a plane bound for the Caribbean. Dalton's last known location will be the beaches of the Cayman Islands. The Bengals finish the season 12-4 and lose their first playoff game… as is customary.
New England – The Patriots will continue to dismantle opponents and cruise to a 15-0 record. Then on Jan. 3, while playing against the Dolphins in Miami, Bill Belichick a.k.a. Darth Hoody will attempt his most devious cheating scheme to date: tying together the shoelaces of the Dolphins players! But the mistake will come when he delegates the task to a couple of backup linemen that've sustained way too many concussions. They will accidently tie Tom Brady's shoelaces together. Tom won't notice as he'll be too busy admiring his own physical perfection in the mirror. Then, as he tries to head out to the field, he will trip and injure his perfect face. He will refuse to show himself in public until the wounds heal, and, since part of Brady's contract stipulates that the team isn't allowed to have backup QBs, the Patriots will be forced to forfeit to the Dolphins. They will end the season with a record of 15-1.
Green Bay – Much like the Patriots, the Packers will face little challenge through most of the season. But then a tragedy will strike on Thanksgiving when they play the Bears. Every single resident of Green Bay will have their turkey deep fryer running at the exact same time, causing a massive heat wave that will in turn mix with the greenhouse gasses that have been building up over decades of unchecked global warming. As a result, every ounce of cheese in the state of Wisconsin will melt. Most of the population, along with the Packers roster, will drown in a river of molten cheddar lava. The Bears, however, will survive due to the team's flight from Chicago getting delayed because Jay Cutler was too hungover to get out of bed on time.
Denver – The Broncos will defeat the Chargers in the upcoming week 6 game. But then in week 7 they will host the Green Bay Packers, who as we all now know, will remain undefeated until much later in the season. The first half of the game will be a hotly contested match. But then after his halftime snack, the ratio of pizza cheese to actual blood running through Peyton Manning's veins will reach a tipping point. He will find that it now takes a full ten seconds for the signal to run to travel from his brain to his feet, which is plenty of time for Green Bay defender, Clayton Matthews to turn Peyton's ribcage into an accordion. This is not the death knell, however as we learned that Denver's real strength is in their defense… that is until Von Miller spots a fan in the crowd wearing the same silver and gold zebra striped suit that he was planning to wear for the post game press conference. This will enrage him, as he will feel the originality of the outfit would be lost. He collapses in a heap and spends the remainder of the game crying on the 50 yard line. Denver loses 35-12.
Atlanta – The Falcons will remain undefeated until week 13, when they face division rival Carolina, who will also still be undefeated. For most of the game, things will fall in Atlanta's favor. With about five minutes left in the 4th quarter, the Falcons will be up 35-10. Then everything will fall apart. Carolina Quarterback, Cam Newton, will shock the world by revealing that his personal touchdown celebration is not just a cheeky display of bravado, but that he is in fact the real, actual Superman (oh, also we find out that Superman is real, I guess that's important). Superman Cam will proceed to score twelve touchdowns in the remaining five minutes of play. Atlanta takes their first loss, and Carolina becomes the front runner in all the Super Bowl pick'em leagues.
Carolina – The Panthers, having just handed Atlanta their first loss while revealing their quarterback to be a god-like super hero, will travel the next week to face the Giants in New York. The Las Vegas betting lines have the Giants as 100 point underdogs. But then, during the opening kickoff, a portal tears open in the sky above New York City, and thousands of alien monster demons come pouring out. Superman, aka Cam Newton, will be duty bound to leave the game to go protect the city against the invading evil. Without their star player, the Panthers will lose to the Giants, who're lead by Eli Manning and human troll doll, Odell Beckham Jr.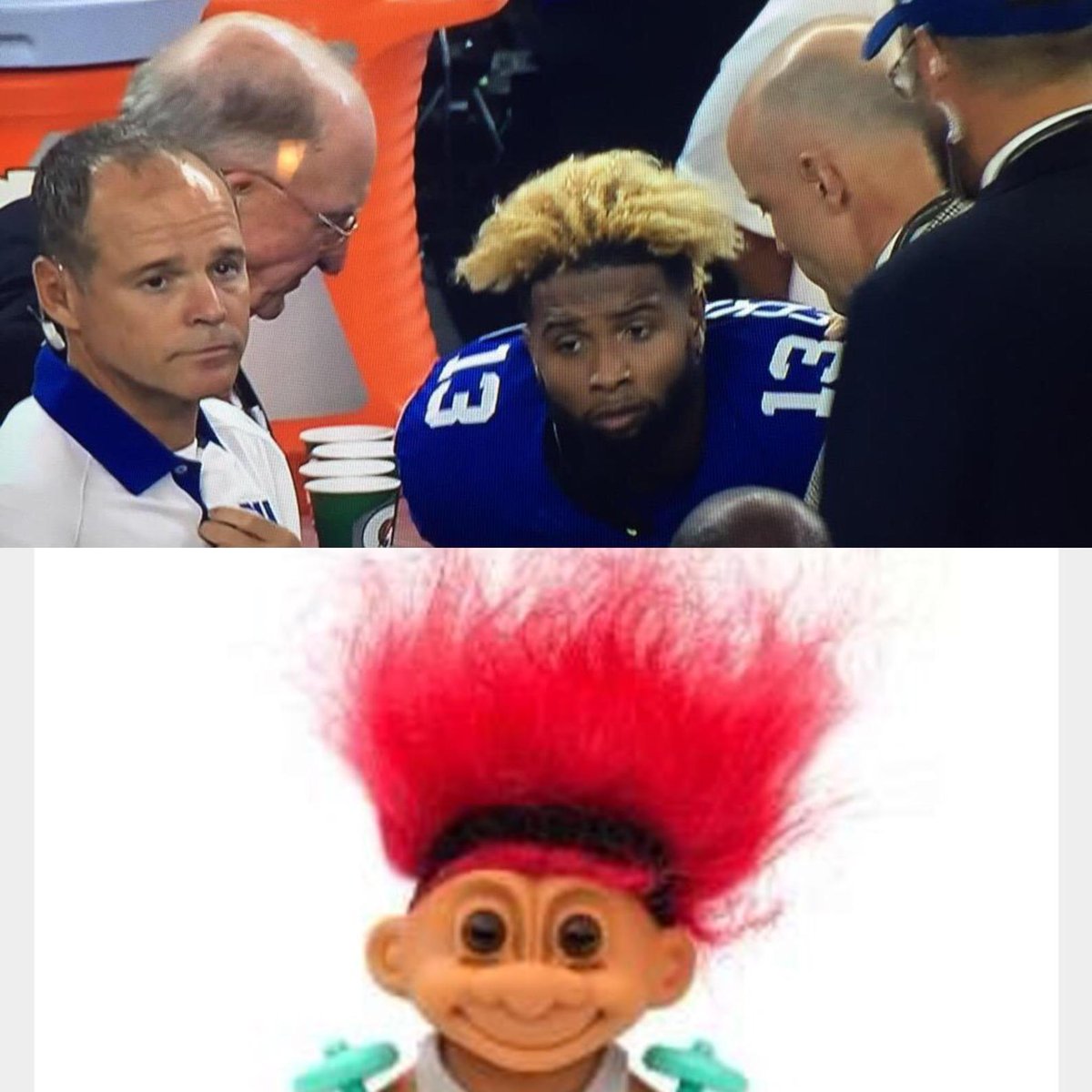 Full disclosure: If the company who makes troll dolls made an ODB one, I'd totally buy it
If you actually made it this far, and read all that, and you actually liked it… 1) you're weird and 2) Thank you
See you next week,
Pat